Kedarnath Yatra is a pilgrimage to the sacred Kedarnath Temple in the Garhwal Himalayas of Uttarakhand, India. It is an important pilgrimage for Hindus and attracts thousands of devotees every year. The yatra involves a trek of around 16 km from Gaurikund to Kedarnath, passing through scenic mountainous terrain. To ensure a safe and comfortable journey, it is important to plan ahead and follow some travel tips. These include checking weather conditions before embarking on the trek, carrying appropriate warm clothing and sturdy footwear, acclimatizing yourself to the high altitude, staying hydrated, and carrying necessary medications. It is also important to carry some cash and important documents, avoid carrying heavy baggage, and to follow safety guidelines at all times. Overall, Kedarnath Yatra is a spiritual and adventurous journey that requires careful planning and preparation.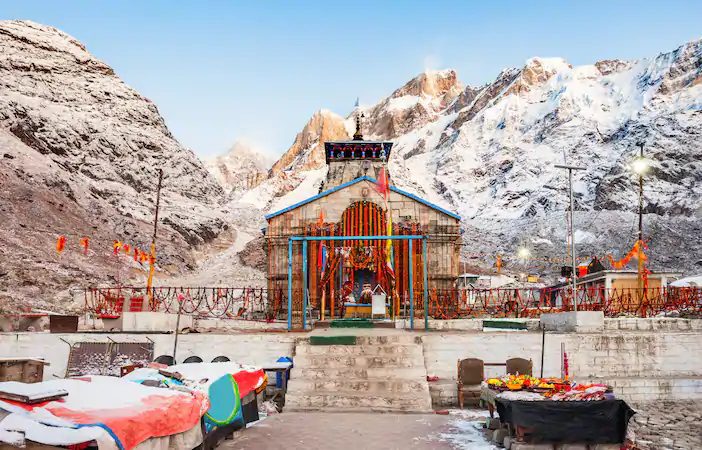 Activities in Kedarnath
Trekking: Kedarnath is known for its scenic trekking routes, including the 16 km trek from Gaurikund to Kedarnath, passing through rugged mountain terrain.
Sightseeing: The Kedarnath Temple is a must-visit attraction, surrounded by breathtaking views of the Himalayan range. Other nearby attractions include Gandhi Sarovar, Vasuki Tal, and Bhairav Temple.
Photography: The stunning natural beauty of Kedarnath offers many opportunities for photography, with snow-capped mountains, pristine lakes, and scenic valleys.
Wildlife watching: Kedarnath Wildlife Sanctuary is home to several species of animals such as snow leopards, Himalayan black bears, musk deer, and more, providing an opportunity for wildlife watching.
Camping: There are several campsites in and around Kedarnath, offering a unique experience of spending a night under the stars amidst the peaceful natural surroundings.
Spiritual activities: Kedarnath is a significant pilgrimage site for Hindus and offers opportunities for prayer, meditation, and participating in religious ceremonies.
Things to Carry for Kedarnath Yatra
Appropriate clothing such as warm jackets, sweaters, and socks to protect against the cold weather.
Sturdy and comfortable trekking shoes with good grip to navigate the steep and rocky terrain.
A raincoat or poncho to protect against the unpredictable weather conditions.
A first aid kit with basic medicines, bandages, and antiseptic ointments to manage any injuries or illnesses.
Sufficient drinking water and energy bars to stay hydrated and nourished during the trek.
Cash and important documents such as ID proof, medical insurance, and emergency contact numbers.
A backpack to carry all the essentials, with weight distributed evenly to avoid strain on the back and shoulders.
Toiletries and personal hygiene items such as tissue paper, wet wipes, and hand sanitizer.
Sunscreen, sunglasses, and a hat to protect against sunburn and glare at high altitudes.
Overall, it's important to pack light and carry only the essentials to avoid unnecessary burden during the trek.
Best Time to Visit
The best time to visit Kedarnath is during the months of May to June and from September to November, when the weather is relatively pleasant and the Kedarnath temple is open for darshan. During this time, the temperature remains mild with clear skies, providing breathtaking views of the surrounding Himalayan range. The monsoon season from July to August brings heavy rainfall and landslides, making the trek to Kedarnath difficult and dangerous. The winter season from December to April brings heavy snowfall and extremely cold temperatures, making it difficult to access the temple. Therefore, it is advisable to plan your visit during the recommended time and check the weather forecast before embarking on the journey.
Kedarnath Temple Opening 2023
The opening date for the Kedarnath Temple in 2023 has not been officially announced yet. Generally, the temple opens its doors to the devotees on the auspicious day of Akshaya Tritiya, which falls in the month of April or May. The exact date is determined based on the Hindu calendar and is usually announced a few weeks before the opening day. It's important to check for the latest updates from the esenyurt escort official sources before planning a visit to Kedarnath. The temple opening is an important event for the thousands of devotees who make the pilgrimage to Kedarnath every year, and it marks the start of the yatra season for the year.
Staying in Kedarnath
Kedarnath Dham offers limited options for accommodation. Most visitors prefer to stay in nearby towns such as Guptkashi, Sonprayag, or Gaurikund and make a day trip to Kedarnath. However, there are a few options for staying in Kedarnath as well, which include:
Dharamshalas: There are several dharamshalas in Kedarnath that offer budget-friendly accommodation for pilgrims, with basic amenities such as shared bathrooms and simple bedding.
Tents: During the yatra season, there are several temporary tents and campsites set up in Kedarnath, offering a unique experience of staying amidst the natural surroundings. These tents are equipped with basic amenities such as sleeping bags, blankets, and portable toilets.
Guesthouses: There are a few guesthouses in Kedarnath that offer basic amenities such as private rooms, attached bathrooms, and meals. However, the availability is limited and prior booking is recommended.
It's important to note that the accommodation options in Kedarnath are basic and not comparable to the luxury hotels available in other tourist destinations. It's advisable to carry warm clothing and personal hygiene items, and to book accommodation in advance during the peak season to avoid any inconvenience.
Kedarnath Food Guide
Most of the restaurants and eateries serve simple vegetarian meals that are suitable for pilgrims and visitors. Here's a food guide for Kedarnath:
Local cuisine: One must try the local Garhwali cuisine, which includes dishes such as Phaanu, Chainsoo, and Kafuli, made with lentils, greens, and local spices. These dishes are typically served with rice, roti, or naan.
Snacks and street food: One can find several street vendors selling snacks such as pakoras, samosas, and chai (tea), which are perfect for a quick bite.
Sweets and desserts: Kedarnath is known for its locally made sweets such as Bal Mithai and Singori, made with milk, khoya, and jaggery.
North Indian cuisine: There are a few restaurants that serve North Indian cuisine, including popular dishes such as dal makhani, paneer butter masala, and tandoori roti.
Basic amenities: It's important to note that the food options in Kedarnath are basic and limited to vegetarian meals. It's advisable to carry some snacks, energy bars, and water bottles, especially during the trekking routes, to avoid any inconvenience.
Overall, Kedarnath offers a limited range of food options, but the local cuisine is a must-try for food enthusiasts. It's important to carry cash, as most of the restaurants and eateries do not accept card payments.
How To Reach Kedarnath
Kedarnath is accessible by road, air, and rail. Here's a guide on how to reach Kedarnath:
By Road: The nearest town to Kedarnath is Gaurikund, which is connected by a motorable road to major cities such as Rishikesh, Haridwar, and Dehradun. From Gaurikund, one can take a 16 km trek to reach Kedarnath. Private taxis and shared jeeps are available from Rishikesh and Haridwar to Gaurikund.
By Air: Jolly Grant (239 km) is the nearest airport in Dehradun. From the airport, one can hire a taxi to reach Gaurikund or take a helicopter ride to Kedarnath.
By Rail: The nearest railway station to Kedarnath is Rishikesh, which is located at a distance of around 216 km. From the railway station, one can hire a taxi or take a shared jeep to reach Gaurikund.
Helicopter services: Helicopter services are available from Phata and Guptkashi to Kedarnath, which is a popular option for senior citizens and those with physical limitations.
It's important to note that during the winter months, the motorable road to Kedarnath is closed due to heavy snowfall, and the town is accessible only by foot or helicopter. Overall, Kedarnath is well connected by road, air, and rail, and one can choose a mode of transportation based on convenience and budget.