Backlinks are important for all possible reasons as backlinks are a digital version of word-of-mouth marketing.
Ask any search engine optimizer in the world, and he will explain to you the worth of backlinks in SEO, especially after Google's page rank algorithm. There is a variety of links- "inbound links", "incoming links" or "one-way links that you can get to improve your search engine ranking.
Putting it simply, Backlinks are kind of votes (for specific pages) for search engines like Google and Bing. A high number of backlinks can get you a desirable rank for organic search engine ranking.
Let's quickly explain it to you.
Why are Backlinks Important for Still Important for SEO?
A link is an endorsement from one site to another. As a vote of confidence, backlinks are created when others vouch for the credibility of your website. It allows the search engine to deduce your area of work, services and other aspects to make your website surfable. Also, earning these backlinks can affect your ranking position and search visibility essentially.
Besides, Google keeps refreshing its algorithm to keep up with trends. Building backlinks is not what it was ten years back. The market has grown competitive, and sites seek high-quality backlinks from trust sources. A million backlinks are churned out every month to impress Google with a high ranking.
There is no cookie-cutter approach to getting backlinks.
Acquire Backlinks from Trusted, Authoritative Websites
You always have a topper from a niche. Getting a link from the website top tops the niche is always beneficial for ranking.
Who would you like to listen – a random guy or a trusted name?
The same goes for Google. Google values links from trusted sites over anything, and also links to "same niche" are appreciated. The more authority a site has, the higher will it pass to your site through links. How will Google judges the site authority? Simply, by its domain authority.
Ask for Anchor Text Links
An anchor link is a simple text in the content that is visible to everyone who is reading your blog or article on the site. Write an effective copy and contact the site administrator to go through the content, and if approved, then simply ask to link back.
Pro tip- Authoritative websites won't allow you to link back if you are a new user or sharing your content for the very first time.
Links Empower Your Pages
Every page on a website brings authority to it. Powerful pages can be a reason for better SEO performance. Note it; pages can rank without a ton of backlinks if you have authority.
Think of Search Engine Journal, a renowned website. Whenever it publishes a new article or a blog, it ranks at the top (even without direct links). The higher the number of backlinks, the more direct/organic traffic a site will get. High-quality links will help you rank better than anything else.
Link to Niche Sites Linking
Getting links from sites that relate to your site niche is typically beneficial. The correlation between the two sites justifies the relevance of both. You can ask for suggestions from people from the same field only, the verdict from someone who knows nothing about it is absolutely unworthy.
Picture this: You run digital marketing and ask for a link from the healthy-niche site. Will it make sense? Possible, no. Find sites that belong to your niche and verify their authority to get backlinks.
No-Follow or Do-follow Link?
Nofollow Links: No follow is the value assigned to the attribute rel in <a> tag to tell search engine crawlers not to crawl the particular URL. Most search engines use the no-follow tag to identify which link is crawlable and which is not. Search Engine crawlers read the linked text on the webpage but don't go through it as it contains the value "no-follow". Nofollow links have no direct SEO value (which means that they won't help you in ranking directly) but are a great source to drive traffic to the website. Big giants like Google also leverage nofollow tags on the website. Google makes changes to its algorithms more often, and no one knows the actual process and how it works except Google itself. So, we need to create both no-follow and do-follow links to maintain the balance between link-building profiles.
Syntax: <a href="https://assertit.io" rel="nofollow">Digital Marketing Agency</a>
Dofollow Links: Dofollow links are the need of every website and SEO to rank keywords. Dofollow links are hard to create because do-follow links matter only if it is from the same niche and high authority websites. High authority websites won't allow everyone to link back, so it's hard to create dofollow backlinks. By default, all links are do-follow if they don't have the rel="no follow" attribute.
Roles of Backlinks in Ranking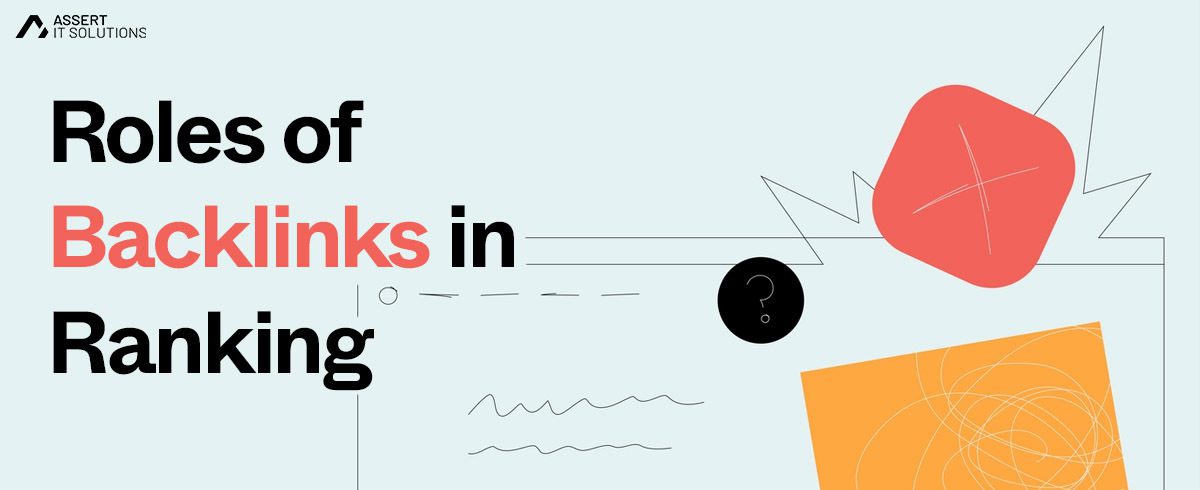 After thorough research and experience in the field, we realized that backlinks can pass link juice to improve domain authority, generate huge traffic to the site, amplify brand awareness, etc. Obtaining backlinks from top sites is not easy as they have parameters to allow linking. Check marking all those parameters takes time and quality. If you are good at creating quality content, it's fair, but if not, you can look for a professional SEO Company in Noida to do it for you.
10 Most Effective Link Building Techniques 2022
Here we have listed some of the effective strategies that can help you build your backlinking portfolio.
Guest Posting – 55% recommended

Resources Pages Links 47% recommended

Competitor's Backlinks Imitation – 45% recommended

Business Directories and Local Citations: 38.71% recommended

Posts with URL – 36.88% recommended

Unlinked mentions – 36.79% recommended

Press release – 35.48% recommended

Social Media Backlinks – 34% recommended

Broken backlinks – 38.71% recommended

Forum and Blogs comments- 22.58% recommended
Tricks like the skyscraper technique and reciprocal linking can also help you gain authority but be mindful while selecting. After reading through all this, you will realize how backlinks are important in setting up your online presence.